Shine a Light. Humanitarian photographer Lisa Kristine is a witness to modern-day slavery. We helped an audience of influencers feel what she sees.
In 2009, photographer Lisa Kristine was the sole exhibitor at the Vancouver Peace Summit with his Holiness the Dalai Lama. While there, she met a supporter of Free the Slaves, an NGO dedicated to eradicating modern-day slavery. That encounter turned into a two-year journey, documenting the unbearably harsh realities of the estimated 27 million souls enslaved worldwide.
The chance to share these images at TEDx Maui was a rare opportunity to have a huge impact in the span of 15 minutes. We interviewed Lisa for many hours, finding a through line for the stories behind each of her hauntingly beautiful images. Together we formed this source material into a focused talk that takes the audience from discovery to awareness to hope and action.
Lisa's talk got a standing ovation, and was considered one of the day's most memorable. It is now featured on TED.com under "jaw dropping," and has gotten over 2.5 million views to date. Best of all, Free the Slaves has received an outpouring of support from TED viewers for their work.
Some of Lisa's astonishing images are below, along with excerpts from the talk.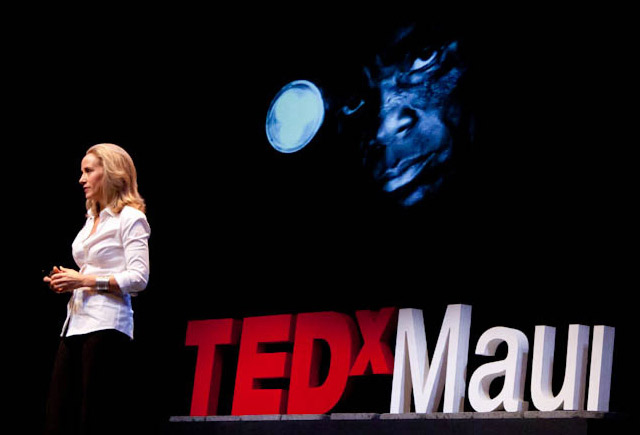 TEDx Maui excerpt:
"In India and Nepal, I was introduced to the brick kilns. The strange and awesome site was like walking into ancient Egypt or Dante's Inferno. Enveloped in temperatures of 130 degrees, men, women and children—whole families in fact—were cloaked in a heavy blanket of dust while mechanically stacking bricks on their heads—up to 18 at a time—carrying them from the scorching kilns to trucks hundreds of yards away.
So pervasive was the heat and dust, my camera became too hot to touch and stopped working. I had to sprint back to our vehicle to clean my equipment and run the camera under the air conditioner every 20 minutes. As I sat waiting for my equipment to cool, I thought: My camera is getting better treatment than these people."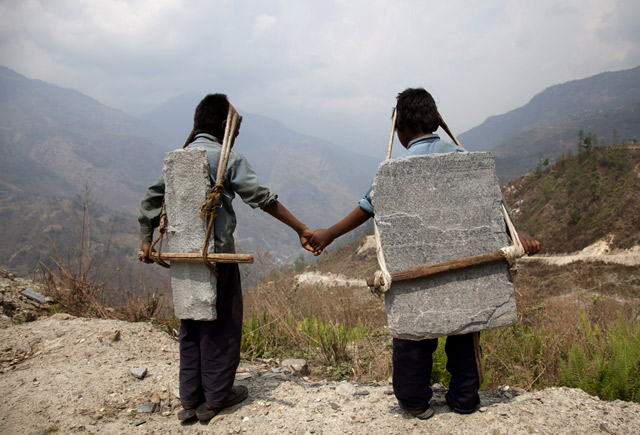 Excerpt:
"In the Himalayas I found children hauling stone for miles down steep mountain terrain to trucks waiting at the road below. These huge sheets of slate were heavier than the children themselves. The kids hoisted them with their heads using handmade harnesses made from sticks, rope and torn cloth."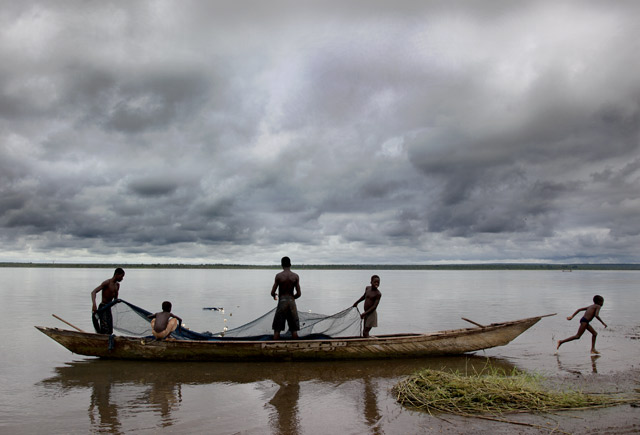 Excerpt:
"It's estimated there are over 4,000 children enslaved on Lake Volta, the largest man-made lake in the world. When I first arrived, we went out to the lake for a quick look. I saw what seemed to be a family fishing on a boat. Two older brothers, some kids … makes sense, right?

Wrong.

They were all enslaved.

These young people are forced to work in boats on the lake—though they cannot swim. I didn't meet one child—not one—who didn't know another who hadn't drowned."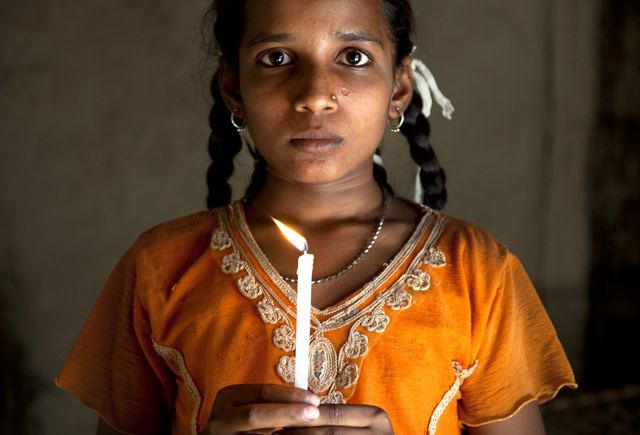 Excerpt:
"When I was working in the field I'd bring candles with me. And with the help of my translator I told the people I was photographing that I would illuminate their stories and their plight.
When it was safe for them—and for me—I made portraits with these candles. They knew their images would be seen by you—out in the world. I wanted them to know that we will be bearing witness to them. And that we will do what we can to make a difference in their lives.
There is not a day that goes by that I don't think of the many beautiful, mistreated people I've met.
I hope these images will awaken a force in people who view them. People like you. I hope that force will ignite a fire and that fire will shine a light on slavery. For without that light, the beast of bondage will continue to live in the shadows."
How you can help:
Buy Lisa Kristine's book, Slavery, created in collaboration with Free the Slaves. Proceeds from all sales directly help end slavery.
Donate to Free the Slaves, or get involved with this important organization.
Client: Lisa Kristine
Project: TEDx Maui Talk
Services: Script writing, presentation design